Administration Staff
Nissan Mosapor, Hospital Administrator, CEO
Nissan Mosapor is a native of Los Angeles, California. He has been working in the veterinary field since he was 17-years-old and is a licensed registered veterinary technician. Over the years, he has worked in several veterinary disciplines ranging from emergency medicine, internal medicine, surgery and neurology departments at various specialty animal hospitals. Nissan has a expansive understanding of the veterinary industry and spent years using this expertise to help veterinary hospitals market their brands. Nissan's dream of opening a specialty animal hospital that cultivates excellence in customer service and unparalleled medical care for animals was accomplished with the opening of Metropolitan Animal Specialty Hospital. In his free time, he likes to spend time with his wife and two daughters.
---
Rick, Hospital Coordinator
Rick was born in Burbank but grew up in Northern California. He has been in the veterinary field since 2010. He has worked his way up from being a client service representative, a technician, and now to his current position as MASH's Hospital Coordinator. He helped to form MASH in its beginnings and designs all of MASH's artwork and designs. Rick graduated with his Bachelors in Geography from Cal State Northridge. Rick has one tuxedo cat named Lucky. Rick has a passion for nature and is a Certified California Naturalist and avid birder. In his free time, you can find Rick fishing, working on motorcycles, at a plant sale, surfing, or at a skate park.
---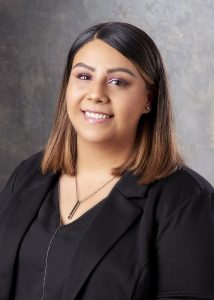 Beatriz, Practice Manager, MASH Outpatient
Beatriz was born and raised in Los Angeles. She has been working in the veterinary field since 2013. She has worked in specialty veterinary medicine all her career. She has experience in client care, DA, TA and hospital management. Beatriz is currently working on getting her certified veterinary practice management license and wants to also continue to learn and grow in their field. She loves to learn! She has a Pug named Ms. Piggy, a Frenchie named Spike, a Pug named Waffles, and a Terrier mix named Teddie. She is also the aunt to sweet "Biggie" a Presa Canario. In her free time, she likes to spend time with her family building memories. She loves going to Disneyland, enjoys watching The Office, and having family game nights.
---
Jamie, Front Office Manager, MASH
Jamie was born and raised in California. She has been working in the veterinary field since 2007. She started working as a client service representative in general practice and then moved to specialty where she became a doctor's assistant. She is now MASH's Front Office Manager. She loves helping to save animals lives and rescue animals. She has a Bachelor's degree in Business Management and Associates degree in Biology and Accounting from Cal State University, Northridge. She has two handsome chocolate labs named Griffin and Riddick. In her spare time, you can find Jamie on the slopes snowboarding, in the mountains hiking or at home watching movies.
---
Tomas, Front Office Manager, MASH Outpatient
Tomas was born in Cuernavaca, Mexico, but was raised in Los Angeles, CA. He has been working in the veterinary field since 2013. He was a receptionist supervisor for a specialty veterinary cancer center and then was a client care assistant manager at a large animal specialty center. Tomas joined MASH's front-end management staff June of 2020. His goal is to get his certified practice management certification soon. He has a miniature Schnauzer named Kody. When not working, Tomas enjoys spending time with his friends. He also absolutely loves to go to theme parks, especially Disneyland! (He has all the passes!). He also enjoys watching movies and taking car rides to new and exciting places.
---
Kendra, Administrative Assitant
Kendra was born and raised in Fresno, California. She moved to Los Angeles in 2018. This will be Kendra's veterinary debut and she is excited to join the MASH team! Her goals are to expand her operations, management, and leadership skills, while contributing to the veterinary and overall Los Angeles community. Kendra has a Bachelors in Interdisciplinary Computing and the Arts from University of California, San Diego. Her family has an English Labrador named Odie and she frequently babysits for her friends Catahoula Leopard-Labrador wild child named Bishop. In her free time, she coordinates community art events, and she composes music. She also loves to grab food with friends and DM Dungeons and Dragon campaigns.
---
---
Rebecca, Veterinary Social Worker, LCSW
Rebecca is a Licensed Clinical Social Worker, born and raised in Los Angeles. She completed her undergraduate degree in Communication Sciences and Disorders from Emerson College, and received her Master of Social Work degree from USC.  She is a lifelong animal lover and advocate, and recently transitioned to the veterinary field from medical social work. Her goal is to one day own her own farm sanctuary. Rebecca has a 1 year old mutt named Marty, and a betta fish named Sandy. In her free time, she loves watching scary movies, and recently got into roller skating.
---
Alli, Finance Manager
Alli has over 20 years of organizational management experience working in retail, law firms, a major pop culture collectibles company and most recently in the last 5 years, back in the veterinary field, at VCA TLC, ASG, and now MASH!
She has two, crazy, adorable, feline boys: Stevie Wonder and Jaxxson. They are the BEST! Her hobbies are more of a passion. Alli currently volunteers at Apex Protection Project (amazing organization, amazing people). She has also volunteered at Pacific Marine Mammal Center for 14 years as an animal care specialist rescuing, rehabilitating, and releasing sea lions, elephant seals, harbor seals, small whales and dolphins. When not volunteering, Alli is either traveling or going to shows, as music is another big passion of hers.
---
Carra, Marketing and Event Manager
Carra was born in Indiana, but grew up most of her life in Wisconsin (Go Packers!) Carra was a Certified Veterinary Technician for 10 years, working in emergency and general practice. She graduated from Madison Area Technical College in Madison, WI with an AA in Veterinary Technology. During school she was Adoption Co Chair and Animal Caretaker for the animals that stayed on campus. Her favorite part of being a technician was anesthesia and dentistry. Carra served on the Wisconsin Veterinary Technician Board as their Legislative Committee Coordinator and Continuing Education Coordinator. Looking for a change, she moved to California in July 2018.
Carra loved being a veterinary technician, but found her passion was in relationship building, events, and marketing. Carra graduated from Colorado State University Global in November 2018 with her Bachelor of Science in Marketing with a Specialization in Public Relations. She did not want to leave the veterinary field, so she is so happy to be able to be in the field she loves and do what she loves.
In her free time, she loves to be in nature; exploring National Parks/Monuments, camping and hiking. Her goal is to visit every national park and monument! She also likes binge watching TV shows, and reading a good book. Carra has two cats that are brothers, Luke and Hans.
---
Allison, Marketing Coordinator
Allison grew up in Tucson, Arizona and after obtaining he Bachelor of Science degree in International Business and Marketing, she decided to move to Los Angeles to be close to the ocean. In 2008, she started what would become a career in the veterinary field, working as a receptionist at a family owned general practice. After a short stent at the front desk, she began training to be a veterinary technician and soon worked her way up to lead tech. Allison wanted to apply her business and marketing degree to her passion of helping animals and began helping with events and designing promotional materials. She then moved on to be the marketing coordinator of a multi-location specialty hospital here in Los Angeles. She is very excited to extend her knowledge and experience to the MASH team and further her career.
In her free time, she's usually planning her next trip somewhere around the world, relaxing at the beach, or watching her favorite sports team. She enjoys the sunshine, warm weather, and search for her next adventure.
---
Kindra, RVT, Inventory Manager
Kindra was born in Utah and moved to Los Angeles when she was 12 years old. She has been in the veterinary field since 2014. She obtained her Associates in Animal Science from Pierce College and is an RVT. She has always had a passion for emergency and critical care medicine but has also worked in general practice and neurology. In the future, Kindra would like to obtain her VTS in emergency and critical care. She has a 2-year-old Australian Cattle Dog named Olive, and a 9-year-old cat named Maggy. In her free time, she like to hang out with her husband and dog hanging at breweries, cooking or reading.
---